Unless I sew for myself, I don't have many opportunities to sew 'pretty' things. Finn's sewing is fairly boring ... raglans, pants, simple boy stuff.
I did recently make a jumper for a friend's daughter, and now that I know it's arrived, here's a peek at what I created (drafted myself for the most part).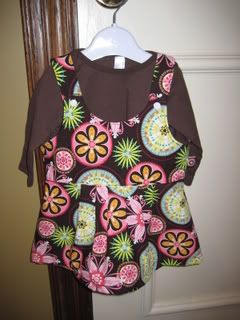 Another opportunity for me to create pretty things is a swap on a message board I am on. I've made two of these aprons, and will tackle some kid-themed items tomorrow.
They were simple, and fairly quick to put together. I really love the Amy Butler coordinates and was happy to find a project that suited the leftovers I had after nearly finishing a shirt for myself (no photo of that until I find the perfect button for it)